Ozone Therapy Accessories
The O3Elite O3 Generator is compatible with a wide range of ozone therapy accessories. We are constantly adding and updating our list of accessories in order to provide everything you need for your ozone applications.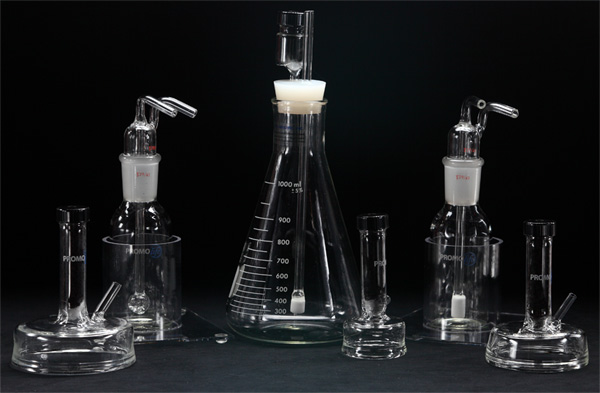 Ozone Glassware
Ozone Cups

Ozone cups are ideal for targeting small areas of the body with ozone. They are available in sizes ranging from 1" to 6" (larger custom sizes are possible). They all come with a built in ozone destruct so excess ozone does not enter the room. For more information or to purchase, visit our Ozone Cups page.

View Video on YouTube
Ozone Humidifier

Ozone humidifiers are designed primarily for those who wish to do ozone insufflations. Because ozone can be very drying, bubbling it in water first makes it more humid and less harsh. Testing shows once the water is saturated there is no drop in ozone output. A standard size and large 500ml size are available.

View Video on YouTube
Ozone Water Bubbler

Ozone water bubblers allow you to saturate water with ozone. You can then drink the water or pour it into a bowl with fruits and vegetables to clean them of dirt, parasites, viruses and other contaminates. you can find out more or purchase one on our Ozone Water Bubbler page.

View Video on YouTube
Ozonated Oil Making System

If you're interested in making small amounts of ozonated oil at home, this system has everything you need. The ozone bubbles in the 500ml oil bubbler. Any oil overflow is captured in the trap. Excess ozone is soaked up in the ozone destruct so it won't enter the room. For information on all the parts, visit our Ozone Oil Making System page.

View Video on YouTube
Ozone IV Saline Drip System

The Ozone IV System is used to ozonate saline solutions for IV drip modalities. There are two sizes: 500ml maximum capacity or 1000ml maximum capacity. They include a flow stop lock, ozone destruct, glass bubbler straw and mounting brackets.
Oil Water Bubbler/Humidifier Combo

This special water bubbler and humidifier combo allows you to switch between humidifying ozone and ozonating water using the 3-way switch on the ozone destruct. The 500ml ground joint bottle has an air intake and exit. The destruct keeps excess ozone from entering the room and setup is easy with Luer lock connections. Visit our Bubbler/Humidifer Combo page for more.

View Video on YouTube
Other Ozone Accessories
Ozone Syringe Filling System

The Ozone Syringe Filling System allows you to continue running your ozone generator after filling the syringe. It includes a Luer lock and glass ozone destruct. Visit our Syringe System page for more.

View Video on YouTube
Ozone Earscope

The ozone earscope is used to direct ozone into the ears. While not required, we recommend combining this with an ozone humidifier so the ozone is not too dry. If you own an ozone generator other than the O3Elite, you may have to have the humidifier or the noise created could be too loud. The O3Elite is quiet.

View Video on YouTube
Ozone Reusable Insufflation Bag

The Teflon ozone insufflation bag includes Luer ozone inlet and outlets ports. Each port is fitted with a two-way polycarbonate Luer stockcock that allows the user to open and close each port on the insufflation bag. This lets you easily fill the bag with ozone and keep it contained until you're ready to use it.

View Video on YouTube
Ozone Resistant Kynar Bag with pre-installed fitting

The Kynar Ozone Limb Bag is made of 100% Kynar (PVDF). Kynar does not break down when in contact with ozone and the bag can be used to target ozone over one part of the body without releasing it into the room.

View Video on YouTube
Ozone Resistant Teflon Bag

The Ozone Resistant Teflon Bag for ozone therapy is 100% Teflon (PTFE). Teflon will not break down when in contact with ozone. The ozone bag can be used to contain ozone on a select area without releasing it into the room.

View Video on YouTube
Full Body Ozone Bag

The full body ozone bag is one of the easiest methods we've found for using ozone over your body. You just attach the tubing from your ozone generator to the included adapter, zip yourself up in the bag, pull the zippers to your neck and either sit or lie down for the desired time period.

View Video on YouTube
We also have a number of smaller accessories, including the following:
Oxygen Equipment
Oxygen is required to create ozone. Ambient air is not pure enough and can create harmful nitrous oxides. You want a high purity oxygen source, whether it is an oxygen concentrator or an oxygen tank. There are advantages to each and the one you choose depends on your desires and situation. If you have any questions at all, feel free to contact us. You can also view our video, Choosing an Oxygen Source
The O3Elite Ozone Generator
Choosing an Ozone Generator

Order Online
Call Toll Free:
888-742-3404
Made in the USA
Low voltage
Cold process
Lifetime warranty